buzzbird
I'll just let the music do the talking for now:
edit:
HAPPY BIRTHDAY TAKKI-RENJAAAA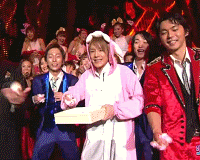 SO, my non-fandom friends, in case you hadn't noticed yet, this is pretty much a fandom post, but feel free to keep reading if you're interested :P
HATEMEME WAS PREFACTION AS USUAL!!!
We even had some actual hate and a troll this time, this amused me greatly :P
SO, uhm, on to more serious matters: Porn for Japan.

ryogrande
wrote me some pretty awesome
pirate!Pin porn
:P
And in return I wrote her
angsty angsty cute Pin
. (notice how subtle I link my new fic comm :P with omg, 3 fics xD)
This was all done for a Japan fund-raiser. Haven't seen the million posts about the

arashi_on
fund-raiser yet? Go check it out,
now!
JE fandom is awesome and has already raised over 27,000 dollars. Fandom, I are impressed. For realz.
Also, I have two new colors of nail polish, it's prettyyyyyy and shinyyyyyy.
Pink for
Barbie
Kame, and green for
aliens
Shige :P
ALSO, EPILEPSY, I DON'T HAVE IT, THIS POST DOES