SO if anyone was to say that Yamapi's Korea performances were a little dull, I wouldn't disagree with them.
BUT OH MY GOD THE HAIR. AT THE TOKYO SINFONIETTA PERFORMANCE.
So pretty *________*
I mean really, I could die happy, staring at that hair.
I also thought I'd let you guys know I'm dropping out of Reel. So if anyone was looking forward to the Troy fic, pray I'll finish it someday anyways xD
More importantly, I wanted to pimp

ryogrande
's
RyoDa fic
, because it's been three days since I read it and I'm still not over how amazing it was!!!!
In real life related news: awesome Chonmage Purin/HanaDan movie/curry rice/tamagoyaki/lots of other less healthy food
and questionable alcoholic drinks
sleepover with

siren_no_oto
and

encoded_panties
was awesome!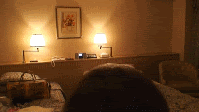 ILU guys ♥♥♥
And now it's time for sleep, because my back is killing me.
Lol random post is kind of random, bear with me XD